Papierkrieg from Makaio Tisu on Vimeo.
Lovely to see the art of paper crafting and folding used in different formats. The patience and skill taken creating the animations really pays off. I do like the idea of creating a narrative around the paper crafting but the simplicity of colour in Jen Stark's work is really beautiful, the sculptural elements of her work are anything but simple but just as beautiful, take a look...
"Streaming Gradient" by Jen Stark from Jen Stark on Vimeo.
Fashion and furniture designers have so often taken from the Japanese art of paper folding.
Shrouding the body with sculptural fabric or wood.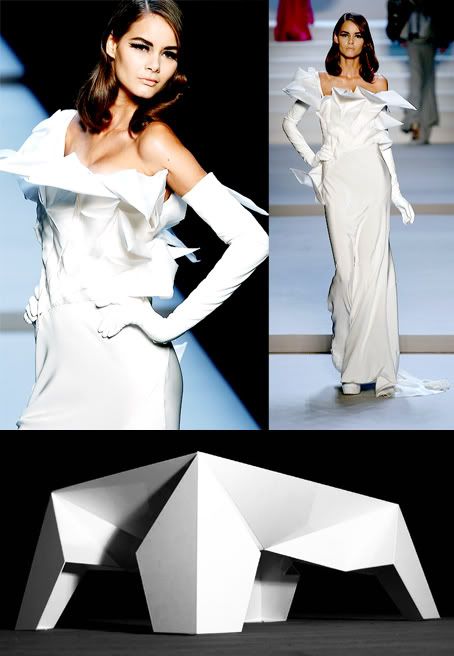 catwalk from autumn-winter collection '07 of DIOR | sputnik table by Buro Vormkrijgers
Hidden in my (Sophie) draw at home I have about 400 paper cranes that I lovingly folded as part of a project (that funnily enough I never finished) to create 1000 paper cranes for good luck so as of now
OPERATION BIG BIRD
is a go! I shall try and finish folding all those cursed little squares into lovely little birdies as a product to sell in our vending machine.
BIG BIRD HAS FLOWN THE NEST! I REPEAT BIG BIRD HAS FLOWN THE NEXT! OVER!