IT WAS CHUFFIN' FABULOUS!
Like quite a lot of cool kids that have been lucky enough to get to visit The Urbis in Manchester more than one time, I'm really going to miss it. Seeing as there is a group of ass hats somewhere that think a football museum would be an on the whole more worthwhile experience than this literal slice of lovely.
This beaut is The Tiny Travelling Treasury by The Ultimate Holding Company, you are given instructions by way of lucky cat...
and with that you explore the city with the aim of bringing back your hoard to display in the cabinet of wonders.
At every installation I see where the viewer is told to contribute train tickets always seem to be in total abundance, I may start creating dirigible tickets instead.
I'm ashamed to say that I didn't contribute.
The scale of the whole thing was great but it was a bit of a shame to see that some of the draws where a bit bare, I think with a lot of care, attention and the right sort of contributers over time it would have been really great.
inspecting more whosits and whatsits.
After delving a bit deeper into The Ultimate Holding Company I found that they do all sorts of fantastic cross disciplinary collaborative business, go check it out...
After first finding out about Yoko Ono's 'take a piece of sky' I have coveted a little piece of sky but then again I have always have a soft spot of installations (irrespective of the works standing be it high or low art) where you can contribute or snaffle away a little piece of the work to keep for your own.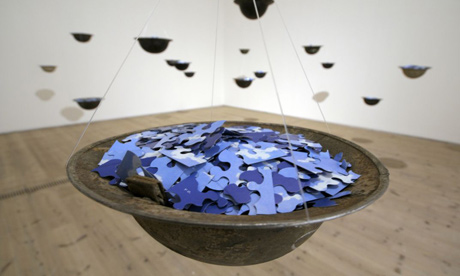 'Take a piece of sky': a Yoko Ono installation at the Baltic Centre. Photograph: Colin Davison
And finally... an installation of piles of luggage free for anyone to add their own personal tags to at The Manchester City Gallery, sadly I cannot recall who created it and Google is being no help either but I remember contributing to one of the tags years upon years ago, I don't remember what I wrote for the life of me..